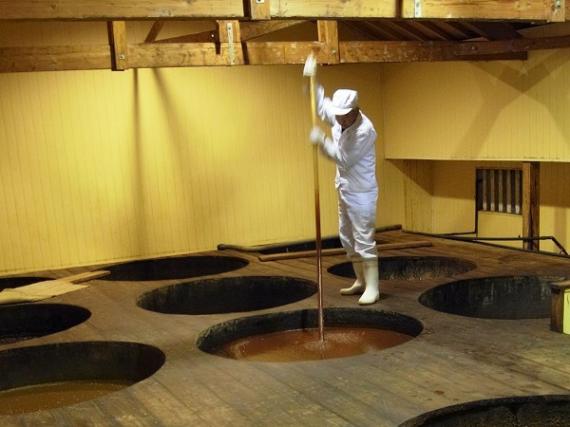 You will visit Nagara town in Gose city, a tranquil submontane old town in the central area of Nara. There, you will learn how soy sauce and tofu are made, and enjoy strolling through an old town where you can still feel the atmosphere from the Edo period (16-19th century). This tour will be guided in English. After meeting your guide, you will take a local bus to Nagara Town in Gose City. At the shop, Umemoto Tofu, you will taste tofu while listening to explanations given by an expert. Next, you will visit a soy sauce producer, Katakami Shoyu (shoyu means soy sauce in japanese), and will see the making of soy sauce through a natural brewing method. Soy sauce is matured along with the passing of the seasons in a large wooden tub made of Japanese ceder. As a special offer of this tour, you will be guided to the top of the large tubs to see soy sauce under the process of brewing. The last attraction of this tour is a delicious lunch at the restaurant "Tegami Cafe" which was originally a post office. Enjoy your lunch prepared with local products such as vegetables, rice, tofu from Umemoto Tofu, and soy sauce from Katakami Shoyu.


Nara Visitor's Bureau
You explore the site where Soy sauce and Tofu are being made, and enjoy tasting them there.

Please review and consider your comments carefully before posting. Comments judged to be inappropriate will be deleted without warning