Calligraphy Brush Making Experience (Weekdays)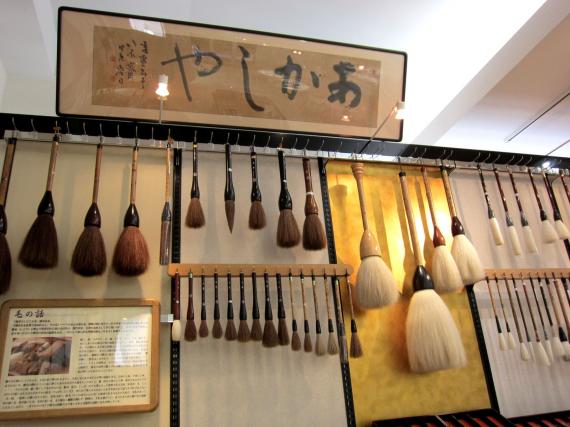 Nara is the birth place of Japanese traditional ink brush and it has 1300 years of history. You can make your own ink brush at our showroom. The experience is the process of setting the brush with glue. You can also enjoy watching craftsmen's work, talks by craftmen and shopping at our showroom.


Akashiya showroom
How about making Japanese traditional brush for your Japan Holiday?

Writing brush making experience at Akashiya showroom
Contributor : Merriam
This was an amazing experience for my friends and I. It allowed us to experience the art of brush making and how much time and effort are placed in making one single brush. On the day of the experience we were greeted by an English speaking staff. We were then ushered to sit in front of the sensei (who was busy making some brushes). On the table in front of us were the brushes and materials that we needed to finish our very own brushes. We watched a video on how to make the brushes from scratch. There was also a print out which, from time to time, the English speaking staff will point out which part of the brush making was being shown on the video. After watching the video, the sensei demonstrated how to set the brush with glue. Afterwards, we tried our hands on setting our brushes with glue. There were written instructions and the staff will happily assist you when needed. After this, the sensei gave a brief talk about brushes (different types of animal hair brushes) in Japanese (which was translated to us by the English speaking staff). You can tell that the sensei has so much knowledge about brushes and brush making with the way he gave the talk. We also got to practice writing in Katakana and Hiragana. It was an absolutely amazing and fun experience - one that can only be found Nara.

Contributor : Nara Visitors Bureau
Thank you for your review!
We are happy you had fun,and looking forward to seeing you again!

Please review and consider your comments carefully before posting. Comments judged to be inappropriate will be deleted without warning