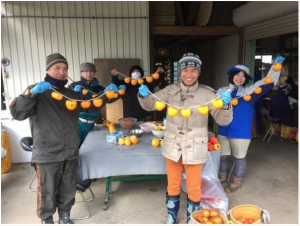 Fields of persimmon trees. Farms. Big, slow clouds, and some nice wind. That was what I expected on my first visit to Shimoichi Town last weekend, and well, that was what we had. My only prior knowledge of this peaceful, mountain town was what I had translated for the Anpo Persimmon making experience. We will have the English version up soon, but for now, here is the Japanese page. On the drive up the windy roads, I finally saw Guesthouse Apricot!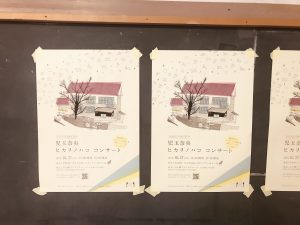 My destination in Shimoichi Town was "Yoshino Hirohashi Smile Village", a former school, now turned into a wonderful place to hold local events.  This time, the event was the Manabiya Music Festival 2019, with musical guest Nao Kodama.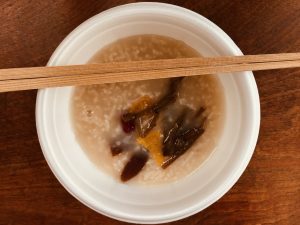 Prior to the main event, many of us were nourished by the local vendors outside the building, serving up a perfected shrimp ajillo, fried chicken, konyaku, and local specialties like persimmon leaf sushi, chagayu rice porridge, and kusamochi.  As you can see in the photo above, I never pass up a chance to have some chagayu rice porridge. All in all, there must have been close to 100 people there, with many children participating in toy-making workshops before the concert.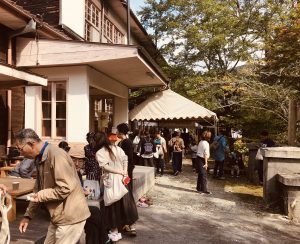 Nao Kodama's musical performance was superb. She soothed when she was soft, and she rocked when she rocked! Sun spilled in through the old school windows, and the smooth, sliding lap steel guitar must have beckoned neighborhood cats to come watch from outside.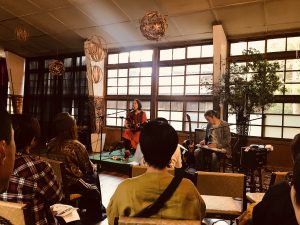 Sitting alone on the stage, she was a fresh, new presence in a school some might have considered forgotten. For me, the beauty of this event was how it found a new use (music) for a former school, and through this, introduced local food and culture to the many visitors who came that day. In addition to helping preserve the culture, it brought people together in an area with fewer and fewer residents. It was truly a pleasure to be a part of it.
If you're interested in visiting Guesthouse Apricot, which is very close to this school, please feel free participate in one of their events, or contact them as well!
Making Anpo Persimmons and Persimmon Leaf Sushi
Picking Persimmons and Making Persimmon Leaf Sushi
Staying in the Mountains of Shimoichi and Making Persimmon Leaf Sushi