Have you ever eaten the rice cooked by "Kamado"?
It is a most delicious way to taste Japnanese rice!
"Kamado" is Japanese traditional oven with firewood. It is usually used for cooking rice. But nowadays you rarely see it in Japan.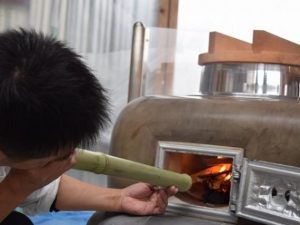 "Kamado" had been popular in our daily life until electronic rice-cooker and gas-range appeared.The heat can be controlled by adjusting the amount or positioning of firewood. The heating power is weak firstly , and then going on high.  At the end of cooking, the power is going on low again.  The series of the heating power brings out the flavor of rice. That's why rice cooked by "Kamado" is more delicious and tasty.
Recently, electronic rice-cooker companies develop their products to close Kamado taste, however it is a bit difficult to reproduce the taste perfectly in the household.
"Shika no fune Kamado" offers you the opportunity to eat Kamado rice and make Japanese rice ball.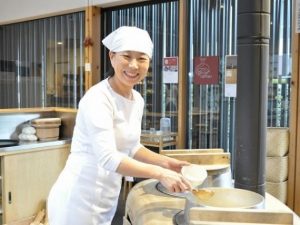 Please visit "Shika no fune kamado" and try tasty Japanese rice!
* Please check our hands-on experience program
Cooking Japanese rice in traditional oven at "Shikano-fune, Kamado" (Local food experience)