Day by day, I find more and more signs that spring is on its way.
How are you doing?
Today, I'd like to introduce a new program that makes you long for spring.
The new program is an on-location photo shooting experience, which will add a new way of enjoying Nara Park and its surrounding area.
Change your clothes into outfits such as Japanese bridal garments or Western-style wedding dresses for women and formal kimono with Haori topcoat and Hakama pants or tuxedos for men. Then, let's go to the best seasonal spots for photo shooting!
A couple of women or men, or even a single person are all welcome!
Traveling the spots by car and photo shooting with a professional camera operator and a make-up artist will be an exquisite experience.
Various kinds of outfits are available for you. So, just bring yourselves to experience this full-fledged photo shooting.
Below are a few of the locations for this photo shooting.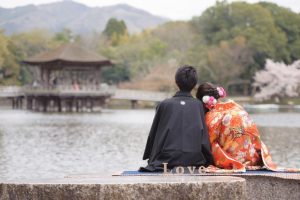 Ukimi-do is a very popular spot for shooting.
The photos always reflect good old Nara in every season.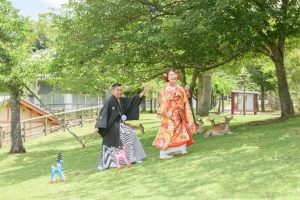 Collaboration with lovely deer.
Nara is the only city you can take photos with deer!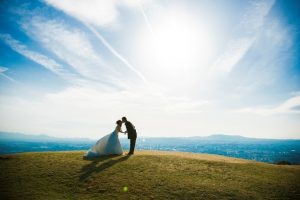 A shot like a moviescene.
Panoramic view on Wakakusa-yama hilltop!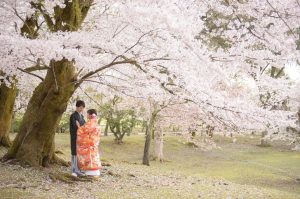 We will bring you to the best spots for each season.
Photo shooting in the season of cherry blossoms is quite popular!
Please make a reservation early!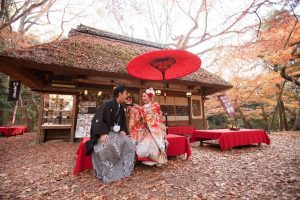 In autumn, the scenery will be beautiful red leaves.
Kimono best matches with autumnal leaves.
This on-location photo shooting is provided by Photo Studio Watanabe, which has a thorough knowledge of photo shooting spots in Nara and has been favored by Nara people for more than eighty years.
The photos will be handed to you as digital data. The number of photos will be 100 to 150 (depending on the plan).
In other places, you can hardly find such a wide variety of locations, from old historical spots to natural spots such as Wakakusa-yama hill and Nara Park.
You can visit various spots without fatigue because a car for the on-location shooting is available for this experience!
After the experience, please share your lovely photos with us!
Please make a reservation from here –
http://nara-experience.com/detail/index/407&ml_lang=en
http://nara-experience.com/detail/index/408