I went to Shorenji Temple in Gojo City, Nara Pref. as part of the "Delicious Summer Rounds" Umashi Natsu Meguri plan.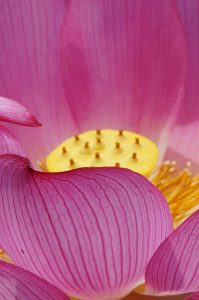 The origins of Shorenji come from when the wife of Emperor Saga was pregnant, and the emperor prayed to and enshrined Jizo Bosatsu for the safe birth of the prince. After that, this land became known as yorase, or "coming feet", after Kobo Taishi (Kukai) stopped by Shorenji when he was establishing Mt. Koya. At that time, he prayed for the path to Mt. Koya to be sunny, and even today Shorenji is loved as a temple to pray for clear weather, rain, and safe births.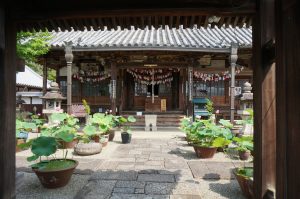 Now, the main hall is decorated with many yet-to-be-burned teruteru bozu dolls made at an event by college students from Osaka, and these liven up the area around the real Jizo.
The characters for "Shorenji" mean "Life-Lotus-Temple". In tribute to the name of the temple, its Chief Priest, who is growing 120 varieties and 300 pots of lotuses, is a Doctor of Life Science. In this Umashi Natsu Meguri, after a lecture on lotuses, we viewed the many lotuses on the temple grounds, and were given explanations for each of them.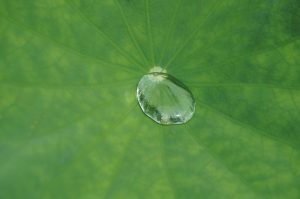 Among those, the double-headed lotus really left an impression on me. Lotuses usually have one flower per stem, but very rarely a second flower also blooms, and these are called the "double-headed lotus".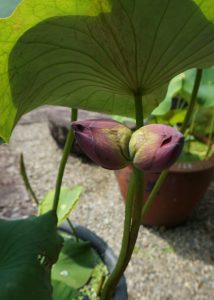 In Nihonshoki, the oldest chronicles of Japan, there is a recording from July, 635 A.D. that says "Congratulations, the lotus in Tsurugi Pond, one stem and two flowers". As "an omen for something good", the double-headed lotus has been considered a lucky flower since ancient times, and it has been said that people become happy by just seeing it.
The Chief Priest said, "It is like a four-leaved clover". It does not pass on its genes, so this flower is limited to one generation and extremely rare. I am happy that I am just able to see it!
We returned to the visitors' room, and while hearing stories of lotuses that need to be grown in large containers, ones that can grow in small containers, and how difficult it is to know if you can grow them from seeds, we tasted and compared the deep flavors of lotus flower tea, lotus leaf tea, lotus heart tea, and lotus tea. Next, we moved to the main hall and experienced ajikan meditation in front of the object of worship. After the participants have relaxed their mind and body, we ate a special bento lunch from the Michelin 1 star restaurant, Gojo Genbei, to end this blissful plan.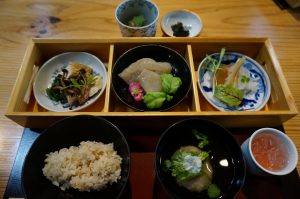 Umashi Natsu Meguri http://www.nara-umashi.com/summer/lineup/shorenji.html
Shorenji Temple http://www.ozizou.jp/