The national treasure East Pagoda of Nara's Yakushi-ji Temple, whose vast restoration will be celebrated next year on April 22, 2020. Currently, the covering that protected it throughout its vast restoration is being dismantled and taken apart.
With two large cranes on the temple grounds, and steel beams being removed and carried down, we began to see the Mizukemuri finial atop the pagoda. I could see the highest roof when I visited two days later, and on my fourth day of observation, I was transfixed once again recognizing the top three roofs and that beautiful site…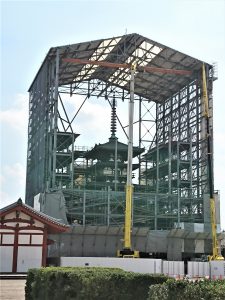 Soon, we will be able to see the entire East Pagoda. There are six roofs, but the first, third, and fifth roofs from the bottom are small, decorative roofs designed to keep out rain and wind called mokoshi. Actually, on the inside there are just three layers stacked up in this pagoda.
The woven balance of the large and small roofs is very rhythmical, and the American philosopher and art historian, Ernest Fenollosa, famously described it as "frozen music".
In a manner of speaking, the current East Pagoda is rare. Surrounded by a large covering, it is protected in a way that it almost feels small.
The Mizukemuri finial at the top is over 180 cm. I forgot just "how big" it felt when I was allowed to visit the site while it was open during restoration.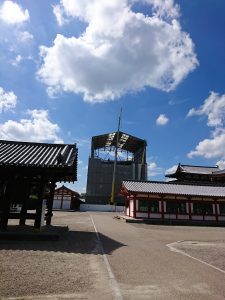 The Mizukemuri finial is made of copper. It is a part of the Sourin that decorates the top of the pagoda, with four panels in the east, west, south, and north, dancing in the sky and designed with Hiten fretwork. The panels weigh about 100 kilograms each as they sit at the very top of the pagoda. Amazing!
Due to wear, tear, and concerns for safety, as the original Mizukemuri finial probably won't last for another 1,300 years, it is being replaced by a newly constructed Heisei Mizukemuri finial. It will watch over future generations, becoming a part of Yakushi-ji Temple history, and we all just might be witnesses.
http://www.nara-yakushiji.com/
*Sep. 4, morning, from in front of the eastern priest quarters