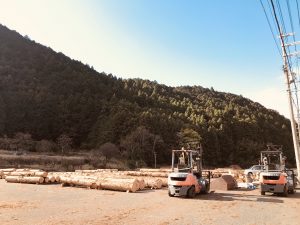 Cafe Le Repos isn't in the first place you'd expect a cafe to be. A few minutes up the Yoshino River from Kintetsu Yamato-Kamiichi Station, we make a tight right turn to head over the river on the Imosebashi Bridge. After crossing the bridge, we see a lumber auction yard, with dozens of large Yoshino cedar logs lined up. To the left is an auto shop, and it's in a corner of that auto shop that I found the cozy Cafe Le Repos.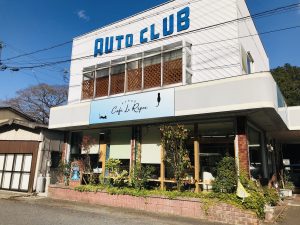 Despite having just opened a few months ago, they were busy with regular customers chatting away at the center table. The inside of the cafe is a beautiful example of how the wood, grown in mountains up the river and gathered as logs outside, can be used to provide a warm and comfortable dining environment. The owner informed me that the day's special was sold out, so our only option was the keema curry. It was spicy enough to wake me up, while still being incredibly flavorful. My lunch also included a small cup of somen noodles and radish pickles, which served to balance out the spice of the keema curry. When the owner wasn't busy in the kitchen, she would casually chat with us or the group of regulars at the large table.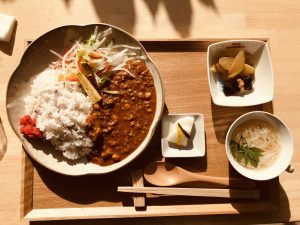 Located near the auction yard, saw mills, and auto shop, Cafe Le Repos seems like it'd be a warm lunch escape for the many people working hard outside in the area. However, I also think it's worthwhile for visitors to the area to make the journey over the Imosebashi Bridge, across the Yoshino River, and relax in a place a little out of the ordinary. Even if it's your first visit, I hope you can feel as comfortable as one of the locals.