It took me three trips to Ramen Kawa in Yoshino Town to finally have a chance to eat it. The chef only makes 50 bowls of ramen a day, and with so many groups of bikers stopping by before lunch time, noon was just a little late. This time, I got there at 11:30.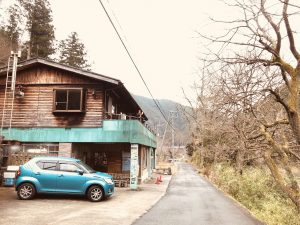 Visitor be ware, there are no large flashing signs or even cut out sheets of cardboard to point you there. Coming up Hwy 169 from Kami-ichi, turn right at the intersection after you cross the Miyataki Ohashi bridge. Then another quick right down a curved slope, passing some vegetable gardens, and head down the narrow road. You will pass some houses, and maybe a construction site, as you continue for a few minutes. Though there isn't any sign with the shop name, look for a large wooden house with a green balcony. That's Ramen Kawa.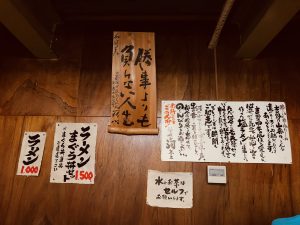 Ramen Kawa has only one kind of ramen and a total of two things on the menu. The salt-based ramen is what most people come here for, but you also have the option of adding a bowl of rice topped with tuna to your ramen. The salt-based ramen soup has hints of yuzu, a subtle citrus fruit that displays its bright yellow color every winter. The soft, fat slices of pork, green onions, sot-boiled eggs, bamboo shoots, and napa cabbage mix with the flavorful soup, deliciously filling my stomach without overwhelming it.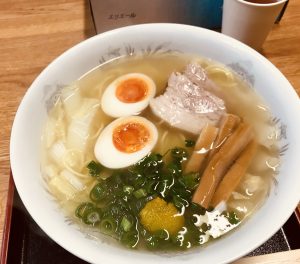 Ramen Kawa is very delicious, but it is its location that really sets it apart. Customers can sit and enjoy the flow of the Yoshino River and the abundant nature around them, all while eating delicious ramen or tuna rice bowls. The secrecy of the location, the limited number of bowls per day, and the effort it takes to get there also adds an element of adventure to the experience for me. I think you'll enjoy it, too. Just make sure you get there early!
Yoshino is still somewhat undiscovered for many visitors to Nara. We offer some very unique experiences in this area that will allow you to learn about and feel the local culture. If you feel like a break from the hustle and bustle of the city, check out some of the experiences below:
No. 162 – Traditional Crafts of Nara:  Making Yoshino Washi Paper by Hand
No. 471 – Staying in a Private Guest House Surrounded by Yoshino Ceder (with a private hot spring bath) and Tea Ceremony