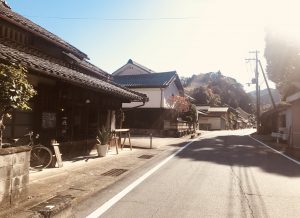 Located in the eastern part of Nara's Yoshino Town, the area of Kuzu is full of legends, stories, and history that has been passed down for hundreds of years. This old community is centered around a road that winds down in the valley along the Yoshino River, long-known for its production of traditional Japanese washi paper. It is here in this community that a new arrival and experienced locals have come together to turn a vacant pharmacy into a delicious intersection of the old and the new.
Kunisu Shokudo is a cafe started by a young man new to the area, along with some older, experienced locals. The young man moved to this area through a national program to help revitalize rural areas, and renovating this former pharmacy into a cafe has been part of his work. He officially opened Kunisu Shokudo this month.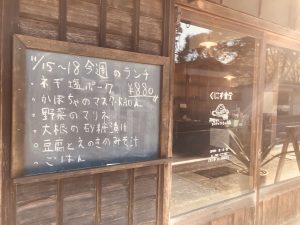 It was naturally born from the desire to have a place to eat lunch and drink coffee. Though there are fewer and fewer people and shops in this area, there was still a demand for this kind of space. Locals from nearby, people from neighboring towns and villages, and other visitors have made the effort to stop by.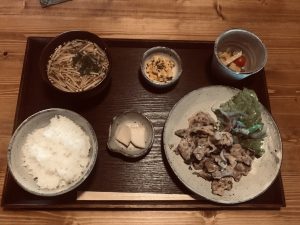 The lunch special is written in friendly characters on a chalkboard in front of the cafe. Consisting of standard Japanese diner favorites, with a bit of local wisdom mixed in, you might see grilled pork, marinated and pickled vegetables, and their famous enoki mushroom and tofu miso soup. Kunisu Shokudo uses locally grown vegetables and does its best not to use any unnecessary additives.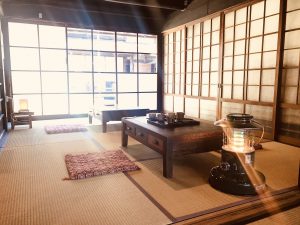 But this place wasn't just started to serve food to people. It was born from a desire for a space where people can eat lunch, drink coffee, and come together. With a selection of coffee and desserts, countless floor pillows, and warm stove heaters, Kunisu Shokudo has quickly become a favorite of many to take a break from the day-to-day and warm up with cake, coffee, and conversation.
We offer an experience just around the corner from Kunisu Shokudo that allows you feel the local culture with your own hands. As this area is well-known for its production of traditional Japanese washi paper, you can try making it yourself, and design your own "one and only" postcards. After enjoying the flavors and scents of the cafe, and the sights and sounds of the Yoshino River, how about feeling the texture of tradition passed down from generation to generation to your hands?