When it comes to winter food in Kawakami Village, hot pots of daikon radishes and napa cabbage, or warm bowls of sweet azuki red bean soup and mochi are what first come to mind. However, there is another winter specialty that is popular among both locals and visitors to Kawakami Village.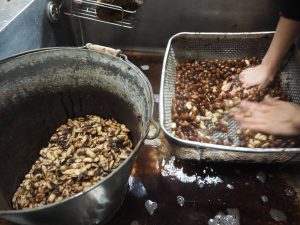 "Yokan" is a Japanese dessert made from mashed beans and gelatin, and often flavored and colored as well. Every winter, Asahikan in Kawakami Village makes its "yuzu yokan" from scratch. They boil the beans in a wood-fire pot, then rinse them and skin them before mashing them up to be used in the dessert. They continue to use a recipe and methods that have been passed down through generations, including picking the yuzu, a citrus fruit, from trees nearby. Flakes of the fruit's yellow skin add a subtle flavor to the yokan's sweetness, and a bright element to the already pink-colored dessert.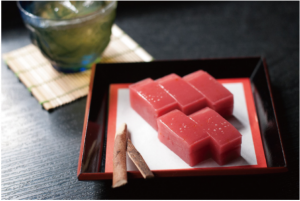 As a 130-year-old traditional Japanese inn, Asahikan offers guests the opportunity to experience what staying in the countryside might have been like in a previous era. With its traditional architecture, including a stunning garden on its second floor, you can walk the same wooden halls and stay in the same tatami rooms as its many visitors have done for over a century.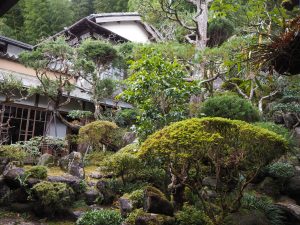 If you are looking for some outdoor fun as well, we offer an experience in which you can stay at Asahikan, chop some bamboo from its mountain grove, and turn that bamboo into your own lunchbox. You'll take that lunch with you when you go out to explore the wide variety of moss in our village, and then create your own moss terrarium. Young or old, all ages are welcome!
No. 457 – Local Food Experience in Kawakami Village