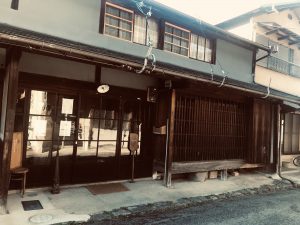 The city of Uda covers a vast amount of space in southern Nara prefecture, and includes mountains, rice fields, and many other crops. In the heart of its Oh-Uda area is a large souvenir shop, an onsen hot spring bath, and a traditional townscape. There are some unique restaurants and cafes in this townscape, and I had the pleasure of visiting one just the other day.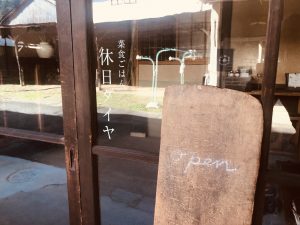 Kyujitsu-Daiya, or "holiday schedule", is a vegan cafe and restaurant located in that townscape. In addition to not using any animal products, they make the effort to use organic vegetables, and even organic coffee. It is a warm and cozy environment located in a traditional Japanese house, with a number of quiet, unique spots for guests to sit and eat.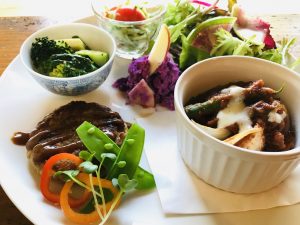 I sat in a floor seat facing the win dow of a small garden, and after I'd read a few pages in my book, the owner brought out my lunch and explained each item. It included a hamburger patty made from garbanzo beans and lotus root, a sweet potato salad made from apples, tofu okara, and soy milk mayonnaise, a bowl of brown rice, and soup made from homemade miso. It's the kind of meal that makes you want to take your time and enjoy every bite.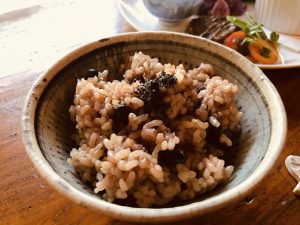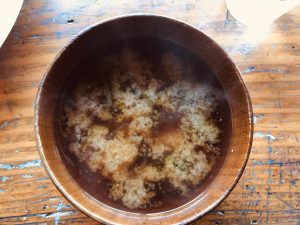 After my lunch, I had a hot cup of hot organic coffee while I sat by the window and continued reading. In a more touristy location, I might not have been able to take my time and enjoy such a quiet place. Homemade miso, local vegetables, I felt like I had a nice chance to appreciate the beauty the countryside has to offer, especially in southern Nara.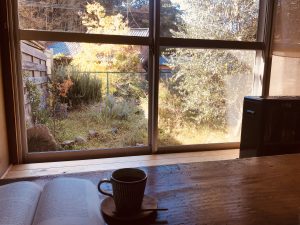 Here is Kyujitsu-Day's instagram account. I recommend pairing a visit to Kyujitsu-Daiya with some other sightseeing in the area. Uda City has lots of beautiful landscapes and historic sites. One is Murou-ji Temple, which is famous for its huge pagoda. In the past, we have offered some programs at Murou-ji Temple that allow you to experience some rarely seen sides of this historic site, so please keep an eye out for more!